Looking to build your Dealership, Rental store, or Manufacturing business? GNE would like to partner with growth-minded business partners like you. Please contact us and let us know how we can help you find solutions to your challenges. Our qualified customer support team has years of industry and product experience and can work closely with you on building the right inventory mix for your dealership or rental fleet. If it's engine power you need, we have your back there too. As the largest distributor of Honda Engines in the US, we are here to guide you through that power selection process as well. All of this is backed up with a robust supply of service parts to support every brand we represent.
We are dedicated to building long-term relationships with our customers and helping you expand your business. We are confident that you will attract more customers, increase revenue and grow your bottom line when you partner with GNE.
---
Contact Us
Live Chat
Our customer sales representatives are available via live chat Monday - Friday, 7:00 a.m. - 5:00 p.m. CST
See the chat icon in the lower portion of the screen.
---
Financing Available
Customers can offer Sheffield Retail Financing to homeowner or professional landscape customers for select GNE brands. Financing offers are subject to credit approval. Some restrictions apply. Please click on the brand links below to view Sheffield Financing Info.
---
Our Locations
Great Northern Equipment Distributing, Inc. is located in Rogers, Minnesota, and has over 150,000+ square feet of space for inventory.
General Office Hours:
Monday - Friday 8:00 a.m. - 5:00 p.m. CST
Closed weekends and holidays
Phone Sales Hours:
Monday - Friday 7:00 a.m. - 5:00 p.m. CST
Will Call Hours:
Will call has been suspended until further notice.
---
How to Pay Your Invoice
Payments can be made by check, credit card (VISA, Mastercard, American Express, and Discover), customer-initiated ACH or wire. Will Call orders require a credit card payment or established credit terms. No cash or check payments are accepted for Will Call Orders. Please note, there is a $30 NSF for all returned checks.
Mail Payments To:
Great Northern Equipment
P.O. Box 857439
Minneapolis, MN 55485-7439
Invoices / Statement Delivery
All Invoices will be sent via e-mail (preferred), or in the daily mail. To update your e-mail address, please send your request to ar@gnedi.com. Statements are issued on the first of every month and are ONLY sent via e-mail. If you receive invoices electronically, then you will receive a statement electronically.
Payment Methods
Payments can be made by check, credit card (VISA, Mastercard, American Express, and Discover), customer-initiated ACH, or wire. Please note that our staff is not equipped to take payments for Will Call orders. All Will Call orders must be on established terms account or paid for prior to pick up. No cash or check payments will be accepted for Will Call Orders.
---
Register a Product
To register a product of one of GNE's brands, please click on the applicable brand icon below to complete a registration form. For all other products, please complete the form that was included in the package of the new product.
Benefits of Registration
For Your Safety
Registering your products will allow us to contact you in the unlikely event a safety notification is required.
Warranty Service
Filling out this form will help you obtain more efficient warranty services in case of a problem with your product.
Confirmation of Ownership
In case of an insurance loss such as fire, flood, or theft, your registration could be your proof of purchase.
---
Request a Return
Contact our sales team for prior authorization as returned merchandise must have a SRO (Sales Return Order) number and clearly marked on the exterior of the shipping carton or it will not be accepted.
Contact sales at sales@gnedi.com or call 1-855-388-9848.
Before you contact us, you will need the following details:
Sales Order Number
Specific Item(s) you want to return (part # and quantity)
Reason for return
Once authorization is approved, you will be given an SRO number. SRO number MUST be marked on the outside of the package.
Conditions:
All returns must be pre-approved and have a Sales Return Order number (SRO#) from Great Northern Equipment clearly marked on the exterior of the package or it will be refused. SRO#'s can be obtained by contacting a member of the Inside Sales Team at 1-855-388-9848.
Part returns. Subject to a minimum 20% restocking fee (could be higher if returned in poor condition). Parts must be in original, unopened packaging and part numbers must be clearly marked and grouped together. Part returns must be made within 60 days of the original invoice date. Electrical parts like Coil's , Regulators , ECU's etc. are NON-returnable.
Power Equipment and Engine returns. Returns for these items must be made within 60 days of the original invoice date, returned in new condition (never gassed, oiled, or engine mounted), and will be subject to a restocking fee. The restocking fee is minimum 15% on these items. (Percentage could be higher depending on returned condition).
Scratch and Dent Engines are sold "As Is" and are non-returnable.
---
Shipping Information
Type of Freight
Small Package: Packages weighing less than 150# and can be transported safely with small package carrier. FedEx.
LTL Freight: Less than truckload. Multiple cartons/products shipped that can be consolidated on a pallet or too heavy/large to effectively ship small package carrier.
Truckload: Multiple pallets or crates of product that require enough space for truckload service. Depending on the number of space/pallets, this option could be more affordable than LTL freight.
Small Package Freight
FedEx is our carrier for small package shipping. Your small package shipments will ship via FedEx Ground. For expedited shipments, please call 1-855-388-9848 for quotes and options.
Pricing is based on a flat rate fee per carton. If you have multiple cartons that are heavier in weight, it may be less expensive and safer to ship via LTL freight. You can contact at 1-855-388-9848 for more information regarding your order and the best method to use. Please see Rate Chart below for small package flat rate charges.
Shipping time. Takes 1-5 business days depending on the distance the package must travel. See FedEx service Days Table below.
Rate Chart
| | | |
| --- | --- | --- |
| | GNE FedEx | |
| Weight | Commercial | Residential |
| 1-15 Lbs | $10.00 | $14.00 |
| 16-30 Lbs | $18.00 | $22.00 |
| 31-50 Lbs | $24.00 | $30.00 |
| 51-70 Lbs | $28.00 | $36.00 |
| 71-99 Lbs | $40.00 | $46.00 |
| 100-150 Lbs | $50.00 | $56.00 |
FedEx Ground Service Maps
Copy Great Northern Equipment's zip code below and paste it in the "Origin ZIP/Postal code" field in the FedEx Service Days Table to calculate your transit time.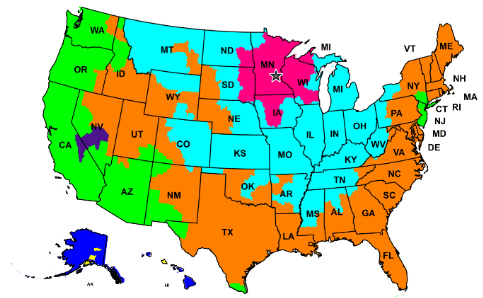 LTL Shipments
For larger orders, products to heavy/large or not safe to ship small package will ship LTL freight. GNE will always consolidate your order to maximize your freight savings. However, GNE will always look at the safety of the product first, before trying to over stack a pallet in effort to reduce freight expenses. Extraordinary delivery requirements may necessitate additional shipping fees. Island, mountain, and rural/remote location deliveries are subject to longer delivery times and additional fees, and possible cancellation when outside our delivery zone.
Pricing is based off the weight, dimensions, class of the product and address being shipped to.
Shipping Times. GNE uses a variety of LTL carriers to enhance our ability to serve your needs. shipping times can vary based off travel distance and remoteness of the customer location. On average, shipping times are 1-7 business days from the date of pick-up.
Truck Load
GNE will look at truckload option over LTL freight if we believe your order can ship in a more cost-effective manner.
Shipping times can vary based off the availability of carrier, travel distance and remoteness of the customer location.
Pricing. Truckload rates are based off a quote from our carriers, looking for the most dependable carrier with competitive pricing.
International Shipping
GNE ships product VIA container, truckload, LTL or small package carriers to a variety of international customers and locations. For all orders outside the United States and Canada, please email us at sales@gnedi.com or by calling at 1-855-388-9848. Any import duties/or taxes for orders shipped to non-U.S. destinations may be imposed by your local government on shipments from outside your country.
Contact: If you have any questions regarding the shipping of your order, please contact us at 1-855-388-9848
---
Tax Information
If you qualify as a Sales Tax Exempt Business, please submit a completed, signed, and currently dated Resale and or Exemption Certificates for all applicable states for your business; email to ar@gnedi.com, for Great Northern Equipment to keep on file. Your account will be charged sales tax until we receive this form.

Exemption Certificates are legal documents, should you have any questions regarding exemption certificates, sales tax compliance issues, or state sales tax laws and how it pertains to your business, please contact that State's Department of Revenue.
---
Account Management
How to Update Your Billing Address
Need to update your account information? Please note account details cannot be changed directly by the customer. If a change to this information is required, please contact customer support at sales@gnedi.com or call at 1-855-388-9848 and a representative will be happy to assist.
How Do I View a Saved Cart?
Click My Account at the top right of the screen.
On the left side of the screen, click on Saved Carts.
How Do I Change My Ship-To Address?
On the top left of the screen, click the Change Ship-To link.
Choose a ship-to address, or enter a one-time shipping address.